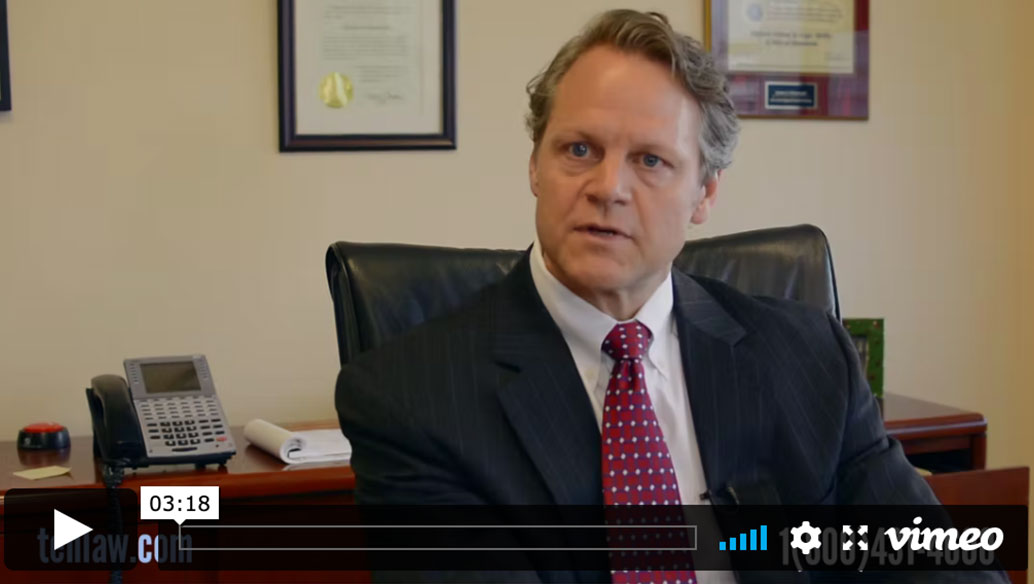 Andrew Wainwright is a Thornton Law Firm partner and trial attorney.  Mr. Wainwright manages the Thornton Law Firm asbestos trial practice.  He has successfully litigated hundreds of asbestos cases in the Massachusetts Superior Court.  He has also successfully argued cases before the Massachusetts Appeals Court and the Massachusetts Supreme Judicial Court.  (Spellman v. Shawmut Woodworking & Supply, Inc., et al, 445 Mass. 675 (2006)).  He has lectured before nationwide continuing legal education seminars
 on the subjects of asbestos litigation and the admissibility of expert testimony.  Mr. Wainwright is admitted to practice in Massachusetts, New York, the United States District Court of Massachusetts, and the United States First Circuit Court of Appeals.  He graduated from Hobart College with a BA in Philosophy and received his Juris Doctorate from Suffolk University cum laude in 1991.
In 2017 he tried and won two of the top three jury verdicts in the Commonwealth of Massachusetts, a $7.5 million award in Sylvestre v. New England Insulation , and a $6.8 million award in Ross v. New England Insulation. In 2021 he was named  to the Best Lawyers in America list for Mass Tort Litigation/Class Actions – Plaintiffs. He is AV Martindale-Hubbell Peer Review Rated, and a Massachusetts Super Lawyer (2004, 2009, 2014-present). He was selected as one of New England's 2020 Top Rated Lawyers by ALM Media and Martindale-Hubbell™.
Hobart College (B.A., 1985)
Suffolk University (J.D., cum laude, 1991)
Boston Bar Association
Massachusetts Bar Association
Massachusetts Academy of Trial Attorneys
American Association for Justice
National Disability Law Center
Professional Hockey Players Association, Workers' Compensation Panel
Spellman v. Shawmut Woodworking & Supply, Inc., 445 Mass. 675, 839 N.E.2d 47 (2006)
1991, Massachusetts
1992, U.S. District Court, District of Massachusetts
1992, First Circuit Court of Appeals
2005, New York
ABOUT US
Thornton Law Firm was founded in 1978 by Michael Thornton and two other attorneys doing groundbreaking work for victims of mesothelioma and other asbestos-related diseases. Now a leading injury law firm in Massachusetts and one of the largest plaintiff law firms in New England, the firm has 19 attorneys representing thousands of clients in a wide variety of plaintiff-side work.
*Attorney Advertising. This website is designed for general advertising only. The choice of a lawyer is an important decision and should not be based solely on advertisements. The information presented at this site should not be construed to be advice nor the formation of a lawyer/client relationship.*
OFFICE HOURS
| | |
| --- | --- |
| Monday | 8:30AM-5:30PM |
| Tuesday | 8:30AM-5:30PM |
| Wednesday | 8:30AM-5:30PM |
| Thursday | 8:30AM-5:30PM |
| Friday | 8:30AM-5:30PM |
| Saturday | Closed |
| Sunday | Closed |
CONTACT US
MASSACHUSETTS:
84 State Street 4th Fl.
Boston, MA 02109
617-720-1333
(888) 491-9726
FAX 617-720-2445
CALIFORNIA:
9595 Wilshire Blvd., Ste 900
Beverly Hills, CA 90212
310-282-8676
COLORADO:
201 Columbine St, Suite 300
Denver, CO 80206
(800) 431-4600

NEWSROOM - FACEBOOK & TWITTER