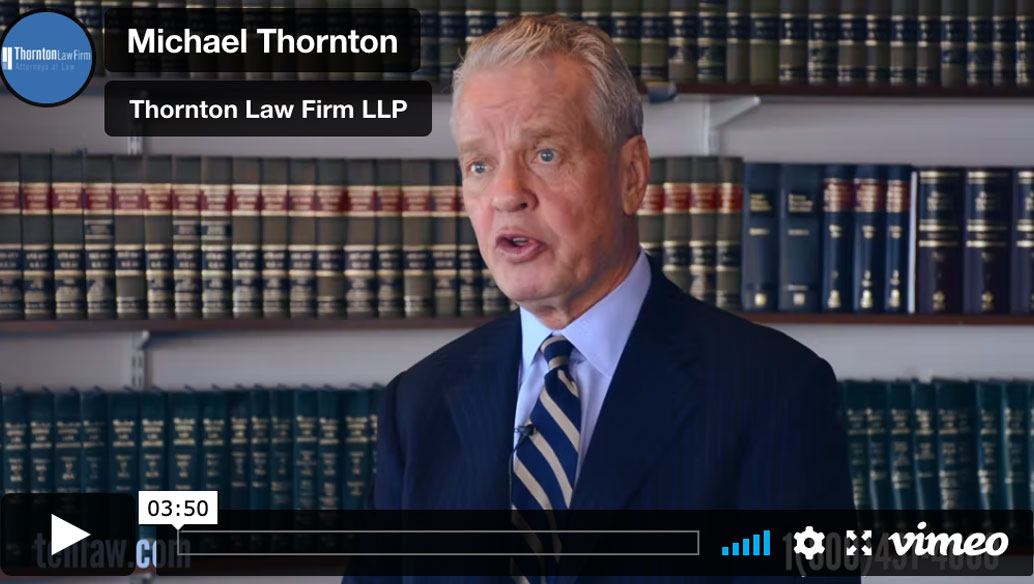 Michael P. Thornton is founder and chairman of Thornton Law Firm LLP. A nationally recognized expert on toxic tort litigation, Mr. Thornton graduated from Dartmouth College and Vanderbilt Law School. In the 1970's he successfully undertook the representation of a number of shipyard and construction workers who had developed asbestos-related diseases. Over the years, the firm has grown to become the largest firm in the Northeast representing victims of asbestos and other toxic materials.
The firm has brought justice to workers who contracted cancer and other health issues from exposure to chemicals, defective drugs, and defective products, and to children who have suffered brain damage from lead poisoning and birth defects from chemicals and pesticides to which their parents were exposed.
The Commonwealth of Massachusetts and other states and local government have sought the firm's expertise to address damage from threats to the public health. Multi-million dollar recovery from tobacco companies resulted from the firm's work in these areas.
Mike has lead the firm to support many charitable causes; the most visible and important project involves cancer research. Mr. Thornton was approached by clinicians and researchers at Brigham and Women's Hospital who were interested in studying mesothelioma, a then untreatable and invariably fatal form of asbestos related cancer. After making a multiyear commitment from his own firm, Mr. Thornton helped to recruit several other donors. The program, begun in 2002, has made groundbreaking strides in cancer research generally, and has helped to revolutionize the treatment of mesothelioma, leading to longer survival and better quality of life for victims of this disease.
Mr. Thornton also responded to a call to help establish a place for the families of mesothelioma victims to stay, as the financial impact of staying in hotels can be devastating. The Thornton House was opened in 2008 and houses up to nine families at a time.
Mr. Thornton is a member of the Massachusetts, New Hampshire, and Maine bars. He has published a number of articles on legal subjects and has lectured at the Harvard School of Public Health, Harvard Medical School, and Yale Law School.
Vanderbilt University, J.D., 1975
Dartmouth College, A.B., 1972
2016:
Howard Twiggs Award.
The Howard Twiggs Award recognizes an American Association for Justice member of at least 10 years standing whose passion, civility, cordiality, and professionalism reflect the high standards set by Howard Twiggs; and whose courtroom advocacy and distinguished service to AAJ have brought honor to the trial bar and the legal profession.
2016, 2019, and 2021:
U.S. News – Best Lawyers® "Lawyer of the Year" for Class Actions/Plaintiffs in Boston.
2006-present
U.S. News – Best Lawyers® Best Lawyer for Mass Torts / Class Actions – Plaintiffs
2007-present
Selected as Super Lawyer® by Thomson Reuters's Massachusetts Super Lawyers® Magazine for Class Actions & Mass Torts
2020-2022
Selected as one of New England's Top Rated Lawyers by ALM Media and Martindale-Hubbell™.
Memberships:
Massachusetts Bar Association
American Bar Association
The American Association for Justice
1975, New Hampshire
1975, U.S. District Court, District of New Hampshire
1979, Maine
1979, U.S. District Court, District of Maine
1982, Massachusetts
1984, U.S. District Court, District of Massachusetts
ABOUT US
Thornton Law Firm was founded in 1978 by Michael Thornton and two other attorneys doing groundbreaking work for victims of mesothelioma and other asbestos-related diseases. Now a leading injury law firm in Massachusetts and one of the largest plaintiff law firms in New England, the firm has 19 attorneys representing thousands of clients in a wide variety of plaintiff-side work.
*Attorney Advertising. This website is designed for general advertising only. The choice of a lawyer is an important decision and should not be based solely on advertisements. The information presented at this site should not be construed to be advice nor the formation of a lawyer/client relationship.*
OFFICE HOURS
| | |
| --- | --- |
| Monday | 8:30AM-5:30PM |
| Tuesday | 8:30AM-5:30PM |
| Wednesday | 8:30AM-5:30PM |
| Thursday | 8:30AM-5:30PM |
| Friday | 8:30AM-5:30PM |
| Saturday | Closed |
| Sunday | Closed |
CONTACT US
MASSACHUSETTS:
84 State Street 4th Fl.
Boston, MA 02109
617-720-1333
(888) 491-9726
FAX 617-720-2445
CALIFORNIA:
9595 Wilshire Blvd., Ste 900
Beverly Hills, CA 90212
310-282-8676
COLORADO:
201 Columbine St, Suite 300
Denver, CO 80206
(800) 431-4600

NEWSROOM - FACEBOOK & TWITTER